A place for you.
We thrive on opening our doors wide and living in community with all kinds of people.
Every day is an opportunity.
Each day at Living Stones is filled with prayer, reading, laughter, running, exploring, learning, serving and giving glory to our Creator.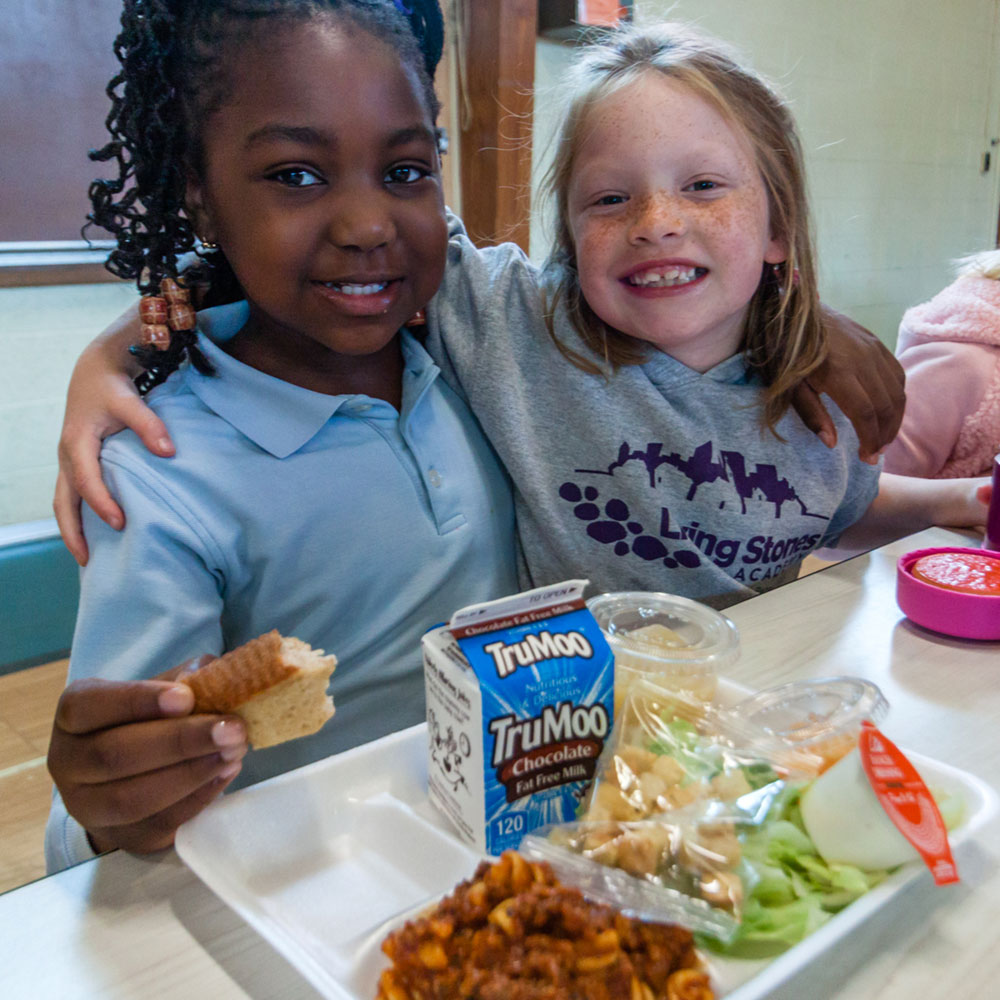 What it's like here
What would it look like if you had the day to wander around Living Stones? There's so much to see, hear, and learn. The day starts with each student being greeted by name by Head of School, Aaron Winkle, as they enter the building. Students make their way to the kitchen for a free, nutritious breakfast and then head to class.
In the mornings, you'll find volunteers helping all over the building — recommending books to students in the library, tutoring students in math and helping on the playground. On Wednesday mornings, the entire school gathers for worship and volunteers, staff and students lead.
Classrooms at Living Stones are centers for learning and exploration. You might see students working in small groups with math manipulatives or independently with an app to improve their reading cognition. Teachers know their students and encourage each independently to do their best, while at the same time creating a strong learning community so that the entire class is supporting and encouraging each other.
Want to see it for yourself?
We'd love to show you around no matter the reason why. Just Schedule a Visit and we'll make it happen.
Stories of people and families in the Living Stones community
There is no "typical" Living Stones member, and we wouldn't have it any other way. God has blessed each of us with unique talents, cultures, stories and people to love. And at Living Stones, all of us are celebrated!
As a family who wasn't considering Christian education as a financially viable option, that particular barrier has been broken down here.

I am blown away by how my children are cherished and valued here. The consistency and commitment of the staff is amazing. Every day. Their love just flows, flows in streams all through this place.

I chose LSA for its giving and loving spirit it displayed. LSA is teaching my family how to be givers instead of takers.

At LSA, we teach kids that diversity isn't an image or a marketing tool, it's an identity. Justice is less about 'saving' someone than identifying and dismantling systems that favor one group of people over another.

The school's value of justice is visible in its curriculum, informal conversations, and community gatherings.

Our son has been singing many of the different worship songs & has already learned many of the verses to memory!  What a gift & blessing it is to know that he is being nourished by the greater family of God outside of our home.

What is a Living Stone?
Watch the video entitled "All are Welcome"