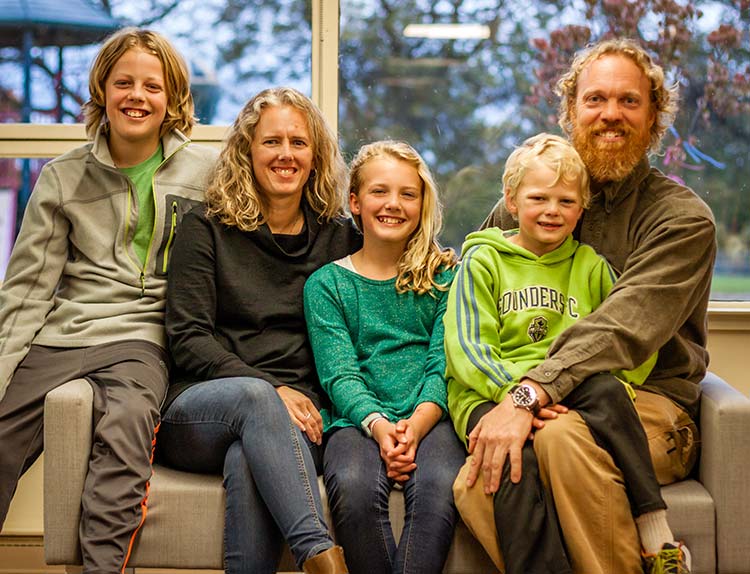 Josiah: aspiring writer
Corena: aspiring teacher, doctor or pastor
Everett: aspiring "downhill snowboarder" or race car driver
Jen: their mom, born in Florida: teacher
Nate: their dad, born in Virginia: builder
What made you decide that Living Stones was the right school for your family?
Nate/Jen: We love the mission, vision and community of Living Stones.
Josiah and Corena, what are three things you like about your school?
Corena: "Literacy Centers", "Read to Self" and my good friends and teachers.
Josiah: The most books you can ever imagine, really good playground and "Daily Five" (literacy).
What is your favorite school event from this year?
Josiah: Poem party.
Corena: Christmas program and fire station field trip.
Nate: Roller skating party.
Jen: Christmas program.
What do you hope Living Stones becomes (or continues to be) in the future?
Nate: A role model of a diverse school.
Jen: A school that fosters excitement for learning and students who are active members and servants in the community. I hope for Living Stones to be a school that encourages faith and integrates it into all areas of learning.
What values are you hoping your children develop from their years at Living Stones?
Nate: Strong voices for others and leadership abilities.
Jen: Students becoming agents of change, servants of Christ. Integrity, caring and creativity.
Anything else you would like us to know about Living Stones?
Jen: Josiah had a neat lesson about MLK day in which the students reflected and experienced being treated differently and unfairly. He came home that day with a greater understanding, even as a kindergartner.