A multicultural focus was critical

Jisun and Paul van Engelenhoven moved to Grand Rapids in 2017 after having lived and worked in a multitude of countries, including Singapore, Cambodia, China, Hong Kong, her native South Korea, his native the Netherlands and Finland, where they originally met!
So when it came time to choose a school for Abigail, Paul and Jisun's oldest daughter, a multicultural focus was critical.
"We love that Living Stones is multicultural," says Paul, who describes himself as "a pastor who's working on his PhD" at Puritan Reformed Theological Seminary. "When we were talking with other seminary families, they described Living Stones as a Christian school that really cares about the way the child grows up. We knew it was right for us from the start."
"Since we are a multi-culture family," says Jisun, "I have a hidden anxiety about finding a place where we, as a family, fit in. At LSA we are reminded that our identity is in Christ and as Christians we belong to the kingdom of God, regardless of skin color, language, culture (and even unpronounceable names). Through the interview and tour with Mr. Winkle, we saw that LSA is Christ-centered, and got the impression that LSA is not just a school but a community that teaches love, respect, and what the kingdom of God is like."
Now in her second year of preschool at Living Stones, Abigail is one of 22 students from 15 families where a parent is a Seminary student, families who hail from such countries as Lithuania, China, South Korea, Venezuela, and the Netherlands.
Love is a big strength at Living Stones
The love that imbues a Living Stones' education is deeply appreciated by these families.
"Recently we talked to a mother whose child is new at LSA this year," says Jisun. "She asked her son how school was going, and he said 'I love it, I feel like all teachers love me.'" When we heard that, it made our hearts delight! We think this love is a big strength of LSA, that the staff have the same mission and the same heart to make it a Christ-centered community."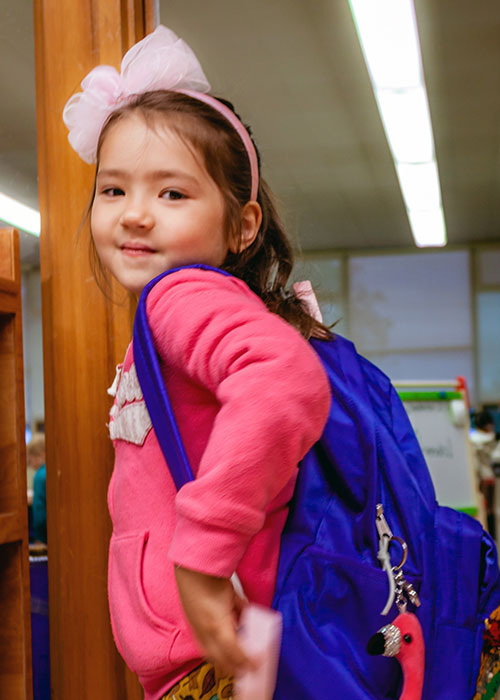 Paul says that Living Stones' requirement that each parent volunteer 10 hours of their time every school year is one piece of Living Stones' strong sense of community. "It brings parenting and schooling closer together, and that's a good thing," he says.
Living Stones fosters what is important for us
Paul has volunteered leading Wednesday-morning worship, during which time he spoke on justice. "My biggest concern for my daughter," he says, "is knowing Christ, having a relationship with him. And close behind that is having wisdom. There's a lot of quick information these days, but wisdom is the way we use our information and knowledge in our day-to-day lives. Wisdom doesn't live for itself. It's important to me that Abigail learns to live outside of herself, and I see that happening here."
Both Paul and Jisun also are quick to recognize that LSA works intentionally to make its education available to all.
Says Jisun: "We appreciate that LSA is doing its best to help those who are not able to afford Christian education."