A go-getter from the start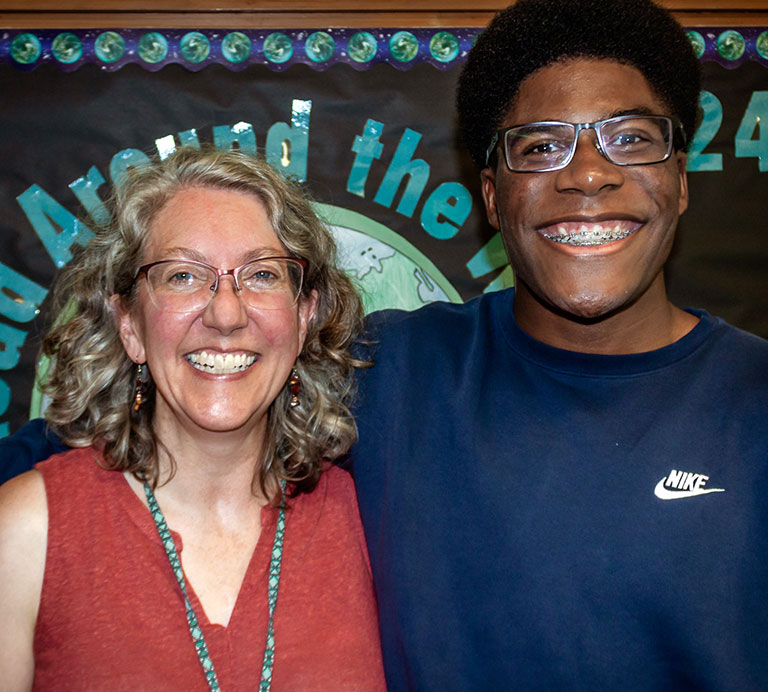 Former Living Stones Academy student Rodney Cancler is a man on the move. This past summer, he was not only a host at Wolfgang's in Eastown but also a lifeguard at Martin Luther King Park Pool.
And while two summer jobs might not be the norm for many high school students, Rodney, now a senior at City High School in Grand Rapids (recently named one of the 50 best high schools in the United States by U.S. News & World Report), says he comes by his work ethic honestly. "A lot of that comes from my family," he says. "We're people who want to work hard. Our family has a go-getter mindset, and it carries over to everything we do."
For Rodney, that includes school. He's part of City's International Baccalaureate (IB) program which, like AP classes, offers college-level courses and the opportunity to earn college credit. He's also in the National Honors Society, an almost 100-year-old organization that is based on academic achievement, leadership, service, and character. He's on the swim team, and he's an active volunteer at his home church, Madison Square Christian Reformed Church.
How Living Stones Academy made me who I am
As Rodney recently recalled his time at LSA, he was struck by how much his current academic and spiritual journey has been influenced by the small school at 1250 Sigsbee he joined as a third grader during its first year of operation, a school he called home for four years and has never forgotten.
"I was super nervous," he says, "and hardly knew anyone. None of my family members ever went to a Christian school, but this was what my parents wanted for me, and I'm glad they did. It was a good education — I feel like LSA really gave me that boost in my academics — and it also helped me make my religion part of my everyday life and to deepen my relationship with God."
One prominent memory of LSA for Rodney is reading. "We had time to read," he says, "and it was great. At LSA we were reading every day. We loved to read!" He also recalls "hard math," teachers who were always willing to help, reciting poems each year for poem parties and LSA's strong sense of community.
Once a Living Stone, always one
Now, he's gearing up for college and has the University of Michigan in his sights. He's considering studying either computer engineering or perhaps public administration. He's found that he likes building his own computers (it's like playing with Legos at LSA he says), but he also likes bringing people together in community and getting things done, so public administration and a career in public service is appealing too.
As the only black lifeguard at the pool this summer, he was struck by how he was put in a position to be a role model for others, and he considers what that might look like for him going forward. "Kids were able to see someone up in the (lifeguard) stand who works hard every day and who looks like them," he says. "That was important. I want to be active in my community, and I think God has given me a gift to have a strong voice."
Looking off into an imaginary future he muses: "Maybe I'll be a mayor someday." And as he does, he smiles.