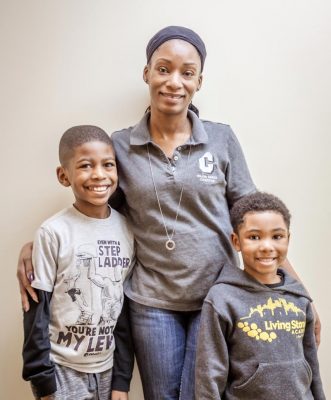 Aiydan: age 8, born in Michigan, hopeful future inventor/writer
Aiyveri: age 5, born in Michigan, aspiring police officer
Montoya: born Michigan, mom of 2 boys, works at LSA running the food program, does childcare, and makes baskets and cards
What made you decide that Living Stones was the right school for your family?
I was happy to find a small school. Most importantly was that my boys loved it right away and we felt the love and inclusiveness that God has blessed the school with.
Aiydan and Aiyveri, what are three things that you like about your school?
Aiydan: friends, Mr. Winkle (Head of School) and how the kids show kindness to other kids and care for one another.
Aiyveri: I make friends. We have free play in class.  I love my teacher because she helps me learn.
Montoya: Can I add something? I am so thankful for the staff for their collaboration and communication to parents and their love that they give each day to the students. I am also thankful that this school was financially possible for us.
What is your favorite school event?
Aiydan: The Christmas Program because lots of people came to support us and after we had cookies!
Aiyveri: The Christmas Program because we got to eat cookies, wear ties and sing songs that are about God.
Montoya: The Christmas Program because the students worked so hard and it was beautiful.
What do you hope Living Stones becomes (or continues to be) in the future?
Montoya:  I hope Living Stones becomes hope for other families unsure as I was. I also hope that Living Stones will expand into a 7th and 8th grade so that our children can be loved even more and continue to be molded into beautiful people during some of the hardest growth years.
What values do you hope your children develop from their years at Living Stones?
Montoya: Love, trust and obedience in the Lord our God, understanding of the magnitude of his grace has had on each of the boys and his awesome gift of making Living Stones for them.
Anything else you want people to know about Living Stones?
Montoya:  We are thankful for the opportunity to be at Living Stones. We started this school year and I can already see the change and growth in my boys. I wanna cry and shout out praises every time I think about this grace and blessing that he has given us by planting seeds for us at Living Stones.