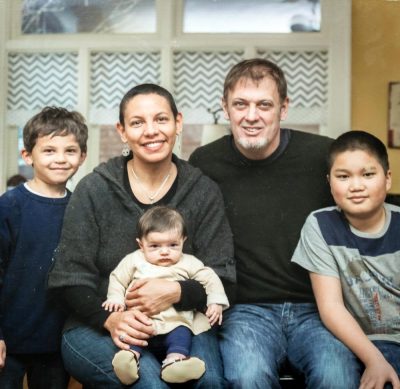 Tobin: age 7, born in Florida: aspiring pilot
Selah: age 4 mos, born in Grand Rapids, MI: aspiring movie star (current aspiration: ballerina and ice cream truck driver)
Sabrina: age 19
Jonah: age 15
Michele: their mom, born in the Bronx, NYC: performer, musician, early childhood music class teacher
Ty: their dad, born in Grand Rapids, MI: Realtor/Associate Broker at Greenridge Realty
What made you decide that Living Stones was the right school for your family?
Michele: I saw the make up of the school – teachers, staff, and families attending and I knew that was where we belonged.
Tobin, what are three things you like about your school?
Tobin: My teachers, friends and principal.
What is your favorite school event from this year?
Tobin: Roller skating party.
Michele: Music in March – lots of great talent coming!
Ty: Christmas program
What do you hope Living Stones becomes (or continues to be) in the future?
Ty: I hope LSA continues to be socio-economically diverse. I would also like to see it grow and evolve into a pre K – 8 campus.
Michele: I hope LSA continues to be a positive light in our community who loves and welcomes all. I also hope that the school is able to add grades 7 and 8 – that would be so wonderful! And that it remains an affordable, faith-based school.
What values are you hoping your children develop from their years at Living Stones?
Ty: Confidence to try new things and a sense of community and citizenship.
Michele: Respect and love for themselves and others, and a confidence in who they are as a unique child of God.