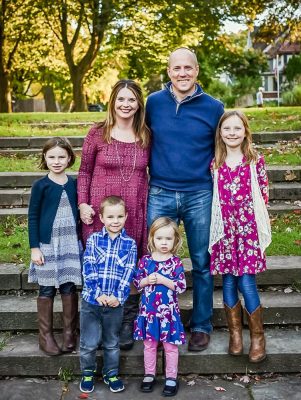 Evelyn: age 10, born in Columbus, OH: aspiring artist
Lilly: age 7, born in Columbus, OH: aspiring doctor
Wes: age 5, born in Grand Rapids, MI: future career path "undecided"
Claire: age 3, born in Grand Rapids, MI
David: their dad, born in Grand Rapids, MI: electrical engineer
Sarah: their mom, born in Joliet, IL: works in editing/marketing
What made you decide that Living Stones was the right school for your family?
Sarah and David: We moved here in 2012 and the school was right in our neighborhood! We met with Karyn the day after we moved here and were so impressed with her ability to tell us what the school was about and made us feel comfortable right away.
Evelyn and Lilly, what are three things you like about your school?
Evelyn: My friends, teachers, and love.
Lilly: Hugs, learning and playing.
What is your favorite school event from this year?
Evelyn: Roller skating Party.
Lilly: Roller skating Party.
What do you hope Living Stones becomes (or continues to be) in the future?
David: I hope that Living Stones continues to be a community that strives to develop deep Christian faith and strong relationships coupled with a world-class education.
Sarah: An open and diverse community that reflects the Kingdom of God – where kids can learn and really practice love and mercy with all kinds of people.
What values do you hope your children develop from their years at Living Stones?
David: Strong work ethic, importance of strong relationships, penmanship
Sarah: Community, kindness, working together, respecting authority and others.