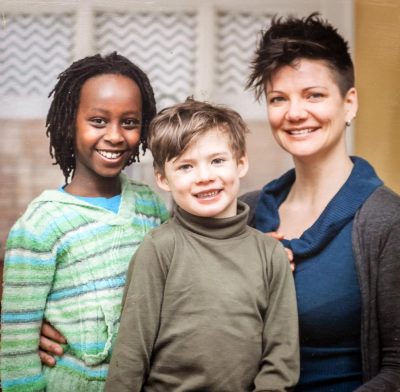 Makeda: age 7 1/2, born in Ethiopia: aspiring detective or person who takes care of animals
Malachi: age 6, born in Michigan: aspiring fireman
Rena: their mom, born in Michigan: a radio producer, writer, actor and graduate student
What made you decide that Living Stones was the right school for your family?
Rena: We really liked the community orientation of Living Stones. It seemed to be a group of parents who had similar goals of wanting to raise kids in a faith-based school that was also diverse and engaged with the wider community.
Makeda and Malachi, what are three things you like about your school?
Makeda: I like that we have worship. I like the kids who go there because they are nice. And, the teachers teach me interesting things I didn't know.
Malachi: Good friends, they have cool events and we do art.
What is your favorite school event from this year?
Makeda: The roller skating party.
Malachi: Me too! That was awesome!
Rena: I really love the poem parties!
What do you hope Living Stones becomes (or continues to be) in the future?
Rena: I hope LSA continues to be involved in community issues in a meaningful way. I'd also like to see a continuation of the dedication to "specials" such as Spanish and the arts. But mostly, I hope it continues to provide a secure environment for the children to all realize their gifts and be brave enough to use them.
What values do you hope your children develop from their years at Living Stones?
Rena: Respect for all people in spite of difference, good critical judgment, strong sense of community and creation care responsibility. How to work by themselves to achieve something and how to work with others.
Anything else you want people to know about Living Stones?
Malachi: I learned all about spiders!
Makeda: I like the different plays we do.