Kindergarten at Living Stones Academy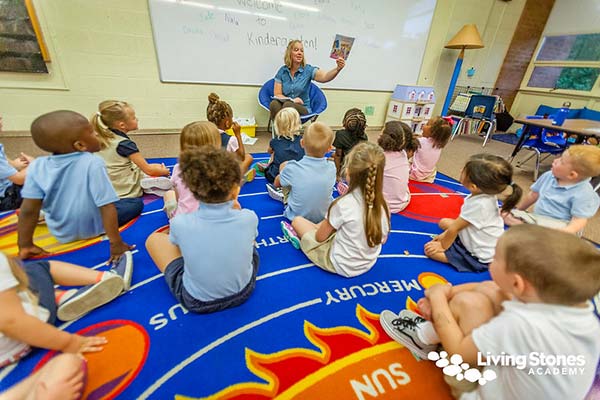 Imagine this: your child hangs their coat up in their school locker, high fives their teacher, and laughs with their friends. Each morning begins with center time followed by a class meeting to worship God, sing songs and share prayer requests. It looks like a typical day in a Living Stones kindergarten class, but something bigger is going on—your child is learning to love the things that God loves.
Education which inspires creativity and wonder. LSA is academically rigorous, but that doesn't mean lots of meaningless busy work. Instead our teachers work hard to inspire curiosity and make learning engaging. 
Teachers who love and encourage your child. At LSA we welcome all students with all of their strengths and weaknesses. Your child will be known and loved by their teacher. They will encourage your child to do their best — not compared to others but what is possible for your child.
Learning to love what God loves. Throughout each day, teachers intentionally remind your child to see themselves as deeply loved by God. They are encouraged to practice bringing that love to others. Showing kindness, including everyone and working together are lessons that are a part of every-day life at LSA.
Ready to find out more?
The best way to get to know us is to schedule a visit. Let us know your availability by filling out the form or contact us at 616-803-9654 or info@livingstonesgr.org.