Get to Know Us
We're here to teach your child about God's expansive love for all.
Looking for a place where your child's faith can come to life?
At Living Stones, your child will be in a learning community that is centered on Christian faith, critical thinking, and servant leadership. That means your child will grow as a maturing believer, curious thinker, and citizen of the world.
Mission
We're a neighborhood Christian school (PK-6th grade) committed to inspiring the minds and hearts of our students; equipping them to embrace cultural, economic, and racial diversity; and empowering them to love and serve in community.
Values
Unwaveringly Christ-centered
Teaching, learning, communal worship — and our life together — all revolve around Christ.
Academically Rigorous
Students are well prepared by our diverse and caring staff to succeed academically.
Radically Inclusive
God calls us to something big: to be a community where people from all nations, tribes, and tongues can learn and worship together.
Absolutely Accessible
Families from a variety of economic situations are able to choose Living Stones Academy because of our unique tuition model.
Learning Hallmarks
Six Hallmarks of a Living Stones graduate:
Maturing Believers

Engaged Learners

Critical Thinkers

Justice Seekers

Servant Leaders

Community Investors
These six hallmarks are nurtured and taught at each grade level so that from preschool on up, kids are challenged and empowered in age-appropriate ways to live these out.
Learning at Living Stones Academy
Learning at Living Stones happens everywhere — in the classroom, in art class, on a field trip to an apple orchard, on a service project, in the hallways. We're thoughtful about what habits we're cultivating in students, and how they will carry their LSA education with them for the rest of their lives.
The School Day
The school day is from 8:05-3:05. Our kindergarten is an all-day, every day program. 
Our Preschool
Our preschool is open to three, four, and five-year-olds. Children that turn three in the middle of the school year are accepted after their birthday if there is space in the class. Children must be potty trained to attend preschool.
Frequently Asked Questions
We welcome your questions! Below we've answered some of most commonly asked questions. However, the best way answer all of your questions is to schedule a phone or video conference with our staff. Contact us at 616-803-9654 or info@LivingStonesGR.org to set up a time.
Do students wear uniforms?
Yes. Preschool-6th grade students at LSA wear uniforms that parents can buy at any store. We require light blue, navy blue, white, or pink collared shirts on top; khaki or navy pants, shorts, or skirts on bottom.
How many students do you have?
Our class sizes are capped at 22 students. We intentionally keep our class sizes small to ensure good relationships are built between every student and between each student and the teacher.
Can I apply online?
Yes. Applying is easy using our online application. We encourage families to apply online as it simplifies submission and provides parents a tool for tracking online the status of their admission after their application has been submitted. A non-refundable fee of $30 must be submitted with each application.
If you need help completing the online application, contact Living Stones at 616-803-9654. We would be happy to help!

Do you have scholarships?
We strongly believe that a quality Christian education should be available to and finaically feasible for all – it's one of our core values. The best way to learn about our school and what the options for tuition are is to come for a visit.
Do you have Young 5's?
One of our preschool classrooms is specifically for four and five year-olds and is geared to helping each child be ready for kindergarten the next year. You can choose half-day or full day Mondays through Fridays. This provides a great option for families who want to ensure their child is ready for kindergarten the following year.
I know you have a preschool. Can my child start in kindergarten or will he/she feel behind?
No, not at all. Kindergarten is an excellent place to start. We have had many children who have joined us for the first time in kindergarten and have thrived at LSA. Our staff is committed to making sure that your child quickly feels at home and ready to learn.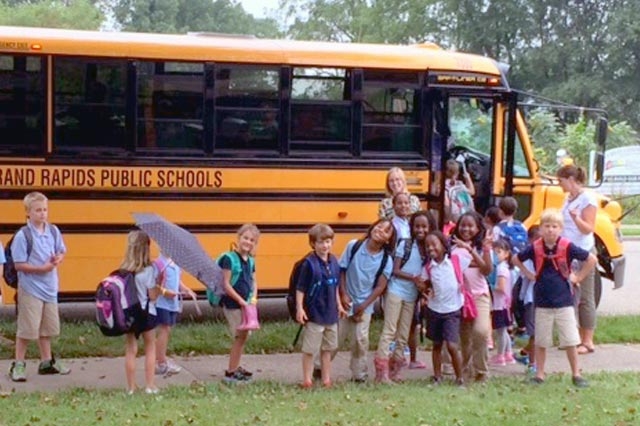 Transportation
Free busing every day
Living Stones Academy offers bus transportation to students living within the Grand Rapids public school system boundaries. Students must also live more than a mile from LSA. There is no transportation fee.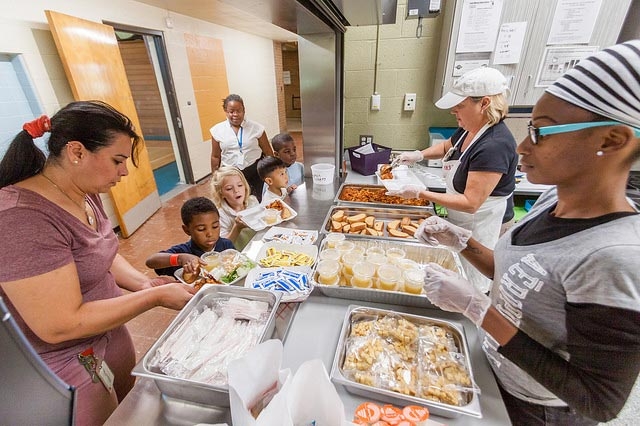 Lunch program
Full kitchen and staff
Starting August 2017, we have a food program serving both breakfast and lunch. Breakfast is free for all students. Lunch is available for all at affordable prices and at no cost for families who qualify.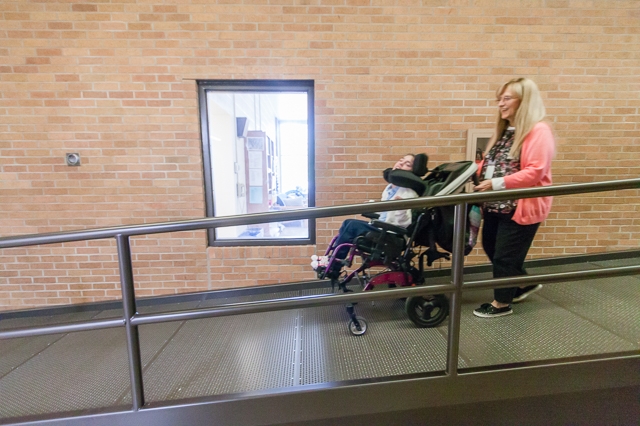 Accessibility
Removing barriers for learning
Our building is accessible to those in wheelchairs. During the summer of 2017, we created a wheelchair accessible bathroom and rebuilt indoor ramps. During the summer of 2018, we refurbished our driveway, added a new roll up curb giving better access to the front door and created accessible entry ways for each exterior door in our building.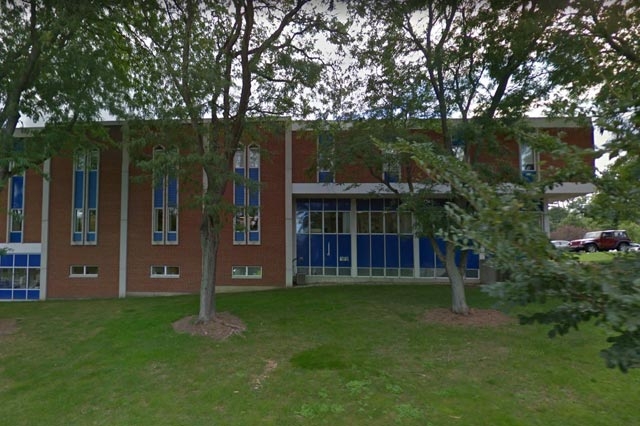 After school care
Low-cost quality care
Through our partnership with The Salvation Army, located just blocks from the school, LSA students have the opportunity to participate in their after school program. Students are bussed from school to The Salvation Army, located at 1235 E. Fulton St. Parents can pick them up as late as 6:00 p.m. 
Our Staff
You can't have a school like Living Stones without an exceptional staff, and yes, we have one. Our staff are brilliant, creative, and innovative, but ask any student at LSA about our teachers, and they'll tell you this — our staff know Jesus and share His love with our students every school day.
Aaron Winkle

Head of School

As Head of School, Aaron sees his role as partnering with the teachers, staff, volunteers, parents and friends to respond to God's call for our school. "As educators, our role is to shape the environment and curriculum that will fully engage the hearts, minds, and imaginations of curious students."

Liz Brown

Assistant Principal

Liz Brown has taught at Living Stones and served as the co-chair of the board, and now serves as our vice principal. Mrs. Brown has her Bachelor's degree in Elementary Education from Grand Valley State University.  In addition, in 2017 she completed her Master of Education with an emphasis in Elementary Education and Instruction and Curriculum, also from GVSU. Mrs. Brown has also taught as an adjunct professor in the School of Education at Aquinas College, teaching Curriculum Development for Early Childhood Education.

Nadia Kimble

Office Administrator

As the office administrator, Nadia Kimble might be the first smile you will see at Living Stones Academy. Those who know Mrs. Kimble well describe her as prayerful, loyal, trustworthy, organized, warm, and intuitive. She has worked as the executive assistant at her home church (Revolution), as a youth engagement specialist for Network 180, and in the insurance industry. 

Kassy Gutierrez

Preschool Director and Teacher

Kassy Gutierrez graduated Spring 2018 from Grand Canyon University (Phoenix, AZ) with a degree in Early Childhood Education. Ms. Gutierrrez was selected by the faculty at Grand Canyon University to represent her class by speaking at commencement. Those who know Ms. Gutierrez describe her mature, positive, thoughtful, and passionate about kids.

Kelsey Merz

Kindergarten

Before joining Living Stones in the fall 2018, Kelsey Merz spent six years teaching at Kigali International Community School in Rwanda, where she was the kindergarten teacher and department head of the lower elementary school. Ms. Merz has a special passion for students with disabilities, especially in the classroom, where she works toward creating an atmosphere where all students feel loved, safe, and encouraged. Her unique global perspective, committed and lively personality, and blend of heart and skills makes her an ideal fit for LSA.

Katie Grasmeyer

First Grade

Katie Grasmeyer is from San Antonio, TX and graduated from Wake Forest University with a BA degree in Elementary Education. She has taught in San Antonio, Zambia, and Washington, DC and has spent time in Australia, South Africa, Argentina, and Ethiopia. Mrs. Grasmeyer has a vibrant Christian faith and deep love for students and their learning. She also has broad experience with people from many different backgrounds.

Kim Knoester

First Grade

Kim Knoester, first grade teacher, was drawn to Living Stones Academy because of our commitment to breaking down barriers for children and families. Ms. Knoester is a skilled teacher, trusted colleague, and has a passion for LSA's mission. She comes to us with previous experience teaching at Grand Rapids Christian (in their Spanish immersion program) and Mustard Seed in Hoboken, New Jersey. She is currently pursuing her masters degree in early childhood education from Grand Valley State University.

Betsi Farris

Third Grade

Betsi Farris is passionate about providing a high-quality Christian education to all God's children. Mrs. Farris teaches third grade at LSA, after previously teaching at Godfrey Lee and West Side Christian. "Being a teacher is a blessing and a privilege; I love walking alongside students and witnessing them grow in their faith and love for Jesus, others, and themselves," says Mrs. Farris.

David Wainer

Fourth Grade

David Wainer grew up in Holland, MI and graduated from Toccoa Falls College, a small Christian school in North Georgia, with a BA in literature and minor in ESL. Mr. Wainer has seen God's hand at work in his life—from bringing him to Toccoa Falls College to giving him a desire to work with other cultures. Mr. Wainer has been teaching in our upper elementary since LSA started in the fall of 2009. 

Gary Warners

Fifth grade

Over the course of 30+ years in teaching, Gary Warners has taught at several Christian schools and has served in various leadership roles. In the classroom, Mr. Warners values community built on trust and care, the richness of diversity in God's kingdom, and creating a safe and compassionate learning environment.

Dawn Plescher

Sixth Grade

Helping students discover and delight in the way God created and works in the world is a privilege, says Mrs. Dawn Plescher. She earned her BA in Elementary Education from Calvin College and in August 2019 completed a MA in Curriculum and Instruction at Grand Valley State University.

Jessica Gamble

Remote Learning Teacher

As one of the first teachers on staff, Jessica Gamble helped shape the LSA mission during those critical early years. Mrs. Gamble is also a terrific teacher, known for having a special knack for building relationships with those in her classroom. For the 2020-21 school year, Mrs. Gamble serves our full-time remote learning students. 

Ashley Copier

Remote Learning Coordinator

Ashley Copier grew up in Holland, MI and attended Grand Valley State University with a bachelor's degree in English and education. While in school, she worked with youth at the Boys & Girls Clubs of Grand Rapids. The mission and vision of Living Stones perfectly aligns with Mrs. Copier's vision for the Grand Rapids area and for a community in which she belongs.

Lisa Spoelhof Schra

Advancement Director

For six years, Lisa and her family served at an international Christian day-school in Vienna, Austria. Previously, Lisa worked in the development office at Grand Rapids Christian Schools. Lisa and her husband Jeffrey have two sons, Willem and Xander, live in Eastown, and are active members of Sherman Street Church.

Lauren Buffum

Director of Support Services

When you meet Lauren Buffum, you'll discover that she has a passion for cultivating strengths in students. Mrs. Buffum is a graduate of Calvin College with a bachelor's degree in Elementary and Special Education. She believes that all children have been made in the image of God.

Zahra Mobinikesheh

Educational Support Services Para-Professional

In 2008, Zahara Mobinikesheh immigrated to the United States from Iran, where she was born and raised and where she spent more than a decade teaching kindergarten and 1st grade. She converted to Christianity from Islam, was baptized, and found a local church community. Mrs. Mobinikesheh is joyful, hardworking, and resilient. She too has a deep love for children.

Juddy Cho

Educational Support Services Para-Professional

Juddy Cho graduated from Calvin University with a degree in Elementary Education. She has lived in seven different countries and speaks Korean, English, Spanish, and Portuguese. Ms. Cho's past experiences, including those that have brought her close to those living in poverty, have fueled her passion for improving the educational outcomes for all children.

Lynn Mudde

Title 1 Teacher

For the first seven years of LSA, Lynn Mudde was our Kindergarten teacher. Now, she serves as an ESS academic instructor. Mrs. Mudde has a love for learning, and sharing the wonder of God's amazing creation. She attended Calvin College for her BA in teaching, and Western Michigan University for her MA. "I have had the privilege of working at several Christian schools throughout my 30+ years of teaching. Living Stones attempts to honor each child as Image Bearers of our creative God, and highly values diversity. In doing so, we not only strengthen our community, we can actually see God's smile on each child's face when they know they are not just included, but they belong."

Montoya Winters

Food Service Manager

Montoya Winters joined Living Stones first as a parent. She was looking for a school where her two boys would feel safe, loved, and included in every aspect—is happy to have found just the place for them. When Living Stones added a food program, she was quick to jump at the opportunity to work at LSA. She loves working at LSA because of the great students.

George Jeffries

Emeritus and Honorary Staff Member

After his first retirement, George Jeffries found that he needed more to do to keep busy. His son-in-law, who was on the LSA board at the time, encouraged him to consider working at LSA as the custodian. That was November 2014, and Mr. George says he has loved every minute of it. He loves the smiles and handshakes he receives from the kids. He came early in the morning to get things ready and again late in the afternoon to do the cleaning. His ready service, gentle spirit and love are evident to all. In June 2019, Mr. George retired again, a second time. We miss having here every day, but he and his wife Bertha remain connected to our staff and students.
Board of directors
Jeremy DeRoo, Chair
Co-executive Director, LINC Up and LSA Parent
Brian Krosschell, Treasurer
Finance Director, fairlife
Dr. Peter Boumgarden
Professor of Strategy & Organizations at Olin Business School, Washington University in St. Louis
Sai-Quan Jackson
CEO/Founder, Techfit, LLC &
Director of Technology, William C. Abney Academy
Sara Sherry Knoester
President/Owner, Mixed Staffing and Recruiting
Michelle Large
Career Readiness Consultant, Kent ISD
Dr. Mark Mulder 
Professor of Sociology, Calvin University and LSA parent
Rev. Sarah Roelofs
Director of Chaplaincy and Care, Christian Reformed Church of North America and LSA Parent
There's more to see!
Check out what it looks like at Living Stones Academy.